This year instead of offering a Christmas Card class I thought I'd offer a Winter card class. I always felt like I was excluding people who don't celebrate Christmas, so this year I don't have to worry about that.
First off, I have to thank fellow CTMH consultant Barbara "Bo" Trommer for her cutting diagram for these cards. I don't have her website to send you to right now, but once I find it I'll update this post.
You will create 10 cards for this Winter Card class for $20. If you place a $25 order with me at the class, the cost will only be $15. The date and location is still to be determined, but I hope to have the details finalized in a few days. So while you're waiting, check out the card samples I created last night....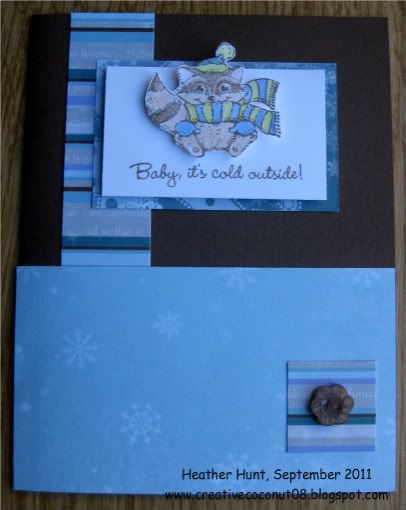 Contact me today to reserve your spot at the class. Or let me know if you can't make it, and I'll send the set to you.
I have a few other projects I'm working on so be sure to check back to see them too!
Supplies used(all CTMH unless otherwise noted):
Pattern: Upper Level Focus, A Heartfelt Classic, Lucky Three (all from Originals)
Paper: Wonderland
Stamps: Bundled Buddies
Ink: Twilight Ink Pad, Chocolate Ink Pad, New England Ivy Ink Pad, Sweet leaf Marker, Spring Iris Marker, Crystal Blue Marker
Embellishments: Chocolate flower button, Pearl Opaques Adhesive Gems
Other items: Watercolour Pencils, Blending Pen